Please note: iTickets is not a streaming host. This article gives general tips that are meant to be helpful. We accept no responsibility for issues that are unrelated to our service or technology, and the information below may not be applicable in some situations.
Purchasing
How does this work?
If you purchase a ticket for a live stream, you will receive a link once your order is processed. For most events it will be sent immediately in your receipt email. Other-times you receipt email will note that it will be sent at a later time. Any time you can click the link to test that you have access. We recommend doing this in advance, not at the time of the event.
For some events, testing in advance may require that you log in at iTickets.com with your email and password. (After logging in, you may need to click the original link again.) On the day of the event, these links will activate and no longer require your password.
We also recommend checking your internet connection in advance.
Why can I only buy one streaming ticket at a time?
For some events, there is a limit of one per iTickets account. This is because your account is how the system verifies that you have a ticket and a right to access the stream. The number of tickets does not matter, only that the account you are logged in with has a ticket to the stream.
When you order, be sure to use the email on your iTickets account. Using a different email could result in difficulty accessing the live stream.
Is there a chance I'll miss out if I don't buy early?
Most streams do not have a limit to how many people can watch. However some events will shut down sales ahead of time to make special arrangements for their viewers so we recommend purchasing as soon as possible.
Troubleshooting
It's event starting time and I can't see anything!
Before the live stream starts, you should still see the embed player on the page. This often displays a countdown to the show time. If you don't see the embed player at all, you might need to reload the page.
The stream can be a minute or two behind, so it might not start at exactly at the scheduled time.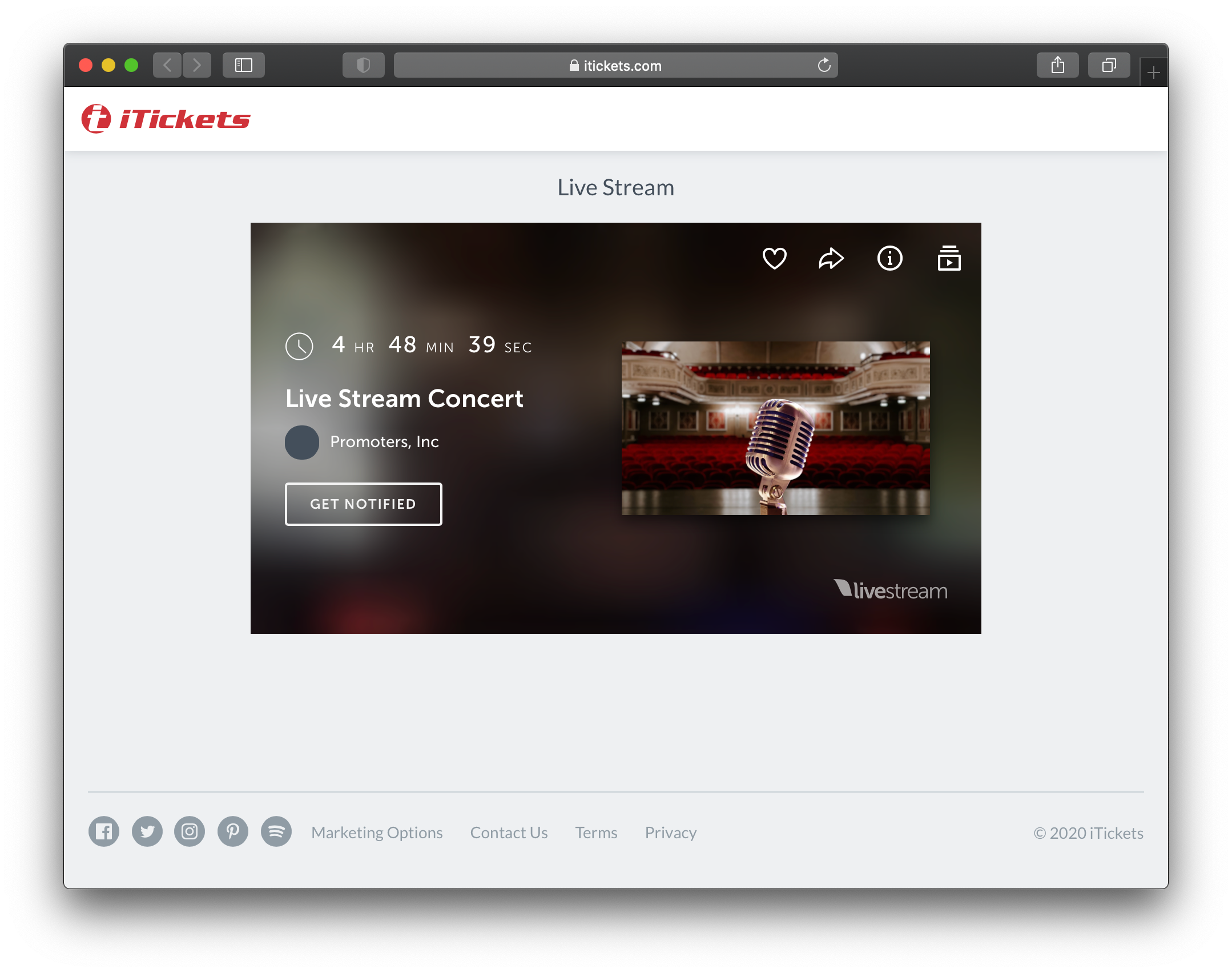 The stream keeps skipping ahead/behind.
If the stream is skipping, please try to reload the page to get back to the current live position.
I tried all these tips and am still having trouble viewing the event.
If you are having technical issues, do not contact iTickets. iTickets is not the streaming host, and only provides the ticket purchase software.
Your receipt email should contain contact info for technical support. If not, look for the event organizer on the event page to see if they listed who to contact.
If you miss the stream due to technical issues, see: Can I watch again?
What are the minimum internet requirements?
Event organizers do everything in their power to ensure the stream is delivered to you in the best possible quality. Unfortunately, the quality of your experience still depends your service provider, your local network, and a host of other factors.
You can use SpeedTest.net or other services to estimate your current internet speed. Consider running this test on the same day/time as the event, but during the preceding week.
Here is a rule-of-thumb list of download speeds required for typical video resolutions:
for 240p video, min: 500kbps
for 720p video, min: 3Mbps
for 1080p video, min: 7Mbps
for 4K video, min: 22Mbps
If your download speed falls short of the video bitrate, your player will not be able to keep up with the live stream. In this case you will experience interruptions, and you may need to select a lower video quality. (You can select "auto" to let the video player make this decision for you.)
Can I watch on a TV?
You do not need a television to watch the live stream, as long as your computer device has a screen. However if you prefer it, there are various methods that make it possible to watch on a television.
You can use a casting device (Google Chromecast, Apple TV, smart TV, etc.), or you can use a video cable and connect your laptop or computer to your television. Most modern devices can work with an HDMI video cable. (Some laptops require an adapter.)
This process will vary with each device and hardware:
If you're using a casting device, refer to the the manufacturer's instructions.
If you're using a video cable, look up instructions for your computer operating system (Windows, macOS, etc.), as well as your television manufacturer.
Can I watch again?
The video should be available on the streaming platform for a maximum period of 24 hours after live-streaming. If not, contact the event organizer to inquire about options.
Note: If you missed the stream due to technical issues, make sure to contact the event organizer! They do not want you to miss it, and in most cases they can provide an opportunity for you to watch it at a later time.
Can I fast forward or rewind the video?
If the event is a live broadcast you will not be able to fast forward or rewind the video. Some videos are live performances on demand, in those cases you will be able to.