See also: Adjusting Capacity
Follow these steps if you want to be alerted when tickets run low.
Enter Email Address
Go to the event's Overview page and click "edit" on the Settings section. Find the "Capacity Remaining Alert" field, and enter the destination email address.
If you do not see this option, your account may not have permission. In this case, please contact us.
You can enter more than one email address by separating them with commas.
When finished, click Save.
Configure Alerts
Go to Tickets > Add/Edit. In the "Capacity" column, choose an alert threshold for each desired ticket type.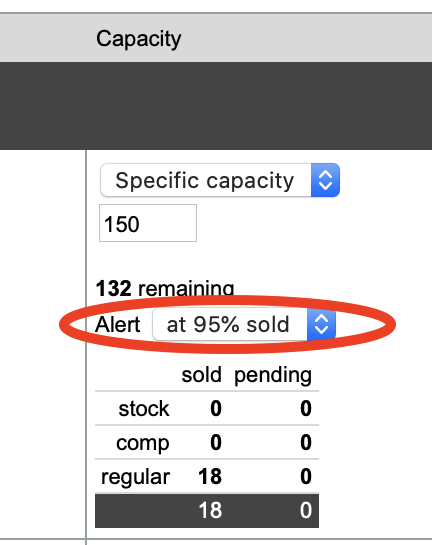 Alerts are sent as appropriate during daily time slots. At each of these times, if alerted you will receive one email with a list of all relevant events.
8:00am ET
noon ET
5:00pm ET
8:00pm ET
Notes
Alerts are not available for "seating time" ticket types.
If ticket types have a shared capacity, they also share alert settings.