To enter custom text or info on your event's receipt email, go to Order Settings > Receipt Email.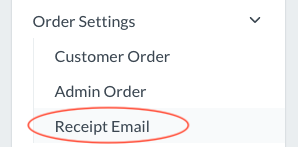 There are various settings here that you may find useful.
When you enter additional information, it will appear at the top of the receipt email under the event details. (Do not use any HTML in this field.)
By special request, we can make edits to other parts of the receipt email too. For pricing and details, contact us.