If you plan to handle distribution of your own streaming URL, and you don't want iTickets to automatically send it, then follow these instructions. Otherwise, see: Auto Delivery
Enable Mail Delivery
Since Mail delivery doesn't send anything automatically, we're going to use that option and disguise it to match a live stream scenario.
On the Overview page under "Dates/Times," find the option labelled "Mail Delivery Ends" and set it to the date when you want online sales to end (e.g. the day of the event). This enables Mail as a delivery option.
Make sure Will-Call delivery is disabled (set date to all zeros).

Disable Printing
Go to Tickets > Printing and make sure Print-at-Home tickets are disabled.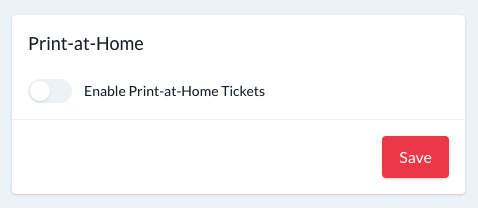 Order Process
Next, go to Order Settings > Customer Order and look under "Details Page." Edit the title and description as shown below, and click Save.
This will change how the Mail option is displayed to customers during their purchase.
Receipt Email
Finally, go to Order Settings > Receipt Email. Change "Mail delivery information" as desired, and click Save.
Distributing Stream URL
When you're ready, export a customer list. (We also have tips for importing this list into Mailchimp or Constant Contact.)
Finish Setup
Once you're done with this article, remember to finish the steps in Live Stream Setup.