See also: Seating Charts
The Sold Map is a page in Box Office that shows all seats in the venue at once, with overall metrics and current status of each seat.
To access this page, find the Overview page and click the link next to "Current seating chart."

This will take you out of the event, and into the associated venue area.
Next, click "View Sold Map" in the bottom left.
Parts of the Sold Map
Venue Image
You will see the same venue image displayed here as elsewhere for this seating chart.
Sales Metrics
You'll see a series of tables with number of seats sold, held, and available for each seat color.
The first table shows totals from the full seating chart. Below that, there's a separate table for each price level.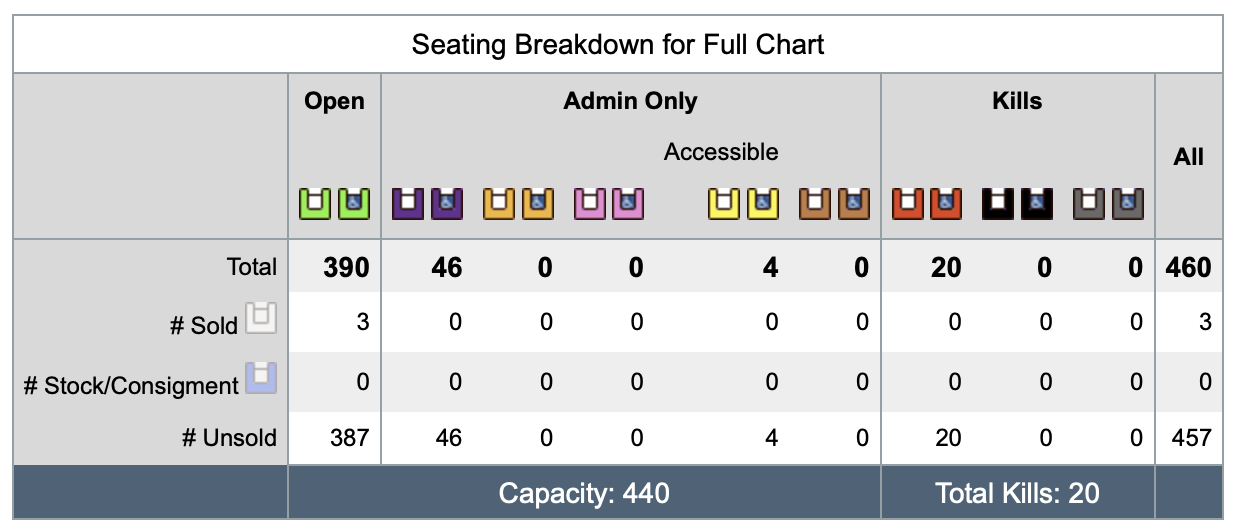 Interactive Section Maps
Finally, each section in the venue will appear as an interactive map. You can access exact order details for any seats that are already sold.
Please note: If your event has multiple seating times, use the drop menu at the top of the page to tell which time you're looking at.
Managing Seat Colors
The hold/kill colors can be given names, to help you identify them for your own purposes (see also: Reserved Sections). This is available through the seating chart area, under "General Settings."
The names you enter here will appear in the Sold Map metrics, and also in the admin order form.